Excel G-Lite Pro Wheelchairs
17 January 2017 | Admin
Excel G-Lite Wheelchairs
A Best Selling Model Wheelchairs
Available in both Transit and Self Propelled Versions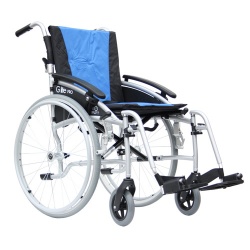 The G-lite Self Propelled Lightweight Wheelchair still has the lightweight frame but is now available with 24" self propel rear wheels.
The Rear wheels are fitted with Quick release pins, which means they can be removed in second making the Chair extremely easy to transport. It still has the half folding backrest and swing away removable footrests which all contribute to is very small transport size and weight.
The Excel G-Lite Pro Self Propelled Lightweight Wheelchair is based on the very successful G Lite series.
Available in a range of seat widths (16" and 18"), the G-Lite Self Propelled Wheelchair is ideal for anyone looking to gain back their independence through using a wheelchair. The chair's polyurethane puncture-proof tyres reduce rolling resistance, giving you a smoother, comfier ride, and the quick-release pins make collapsing and storing the chair easier than ever before.
Another addition to the Excel G-Lite Pro Self Propelled Lightweight Wheelchair is the introduction of height adjustable armrests, which are not only great in helping to make the user as comfortable as possible, but due to the way they fold, it makes the chair perfect for whilst at a desk or table.
The Excel G-Lite Pro Self Propelled Lightweight Wheelchair comes with the following features :
Quick release 24" rear wheels .
Lightweight aluminium frame with a ten year frame warranty.
Half folding backrest with handy pocket on back of backrest padding.
Swing away, removable footrests.
Easy to fold away and transport
BUY ONE TODAY SEE THE EXCEL GLITE PAGE HERE
Seatwidth: 40cm(16") Narrow or 45cm(18") Standard
Seat depth: 43 cm
Seat height: 54 cm

Backrest height: 42 cm
Overall width: Seat width + 15 cm
Overall length: 108 cm inc footrests

Total height: 95 cm
Total weight: 12kg
Max. user weight: 113 kg